Panto Stars To Help Boost Funds At Norfolk Church Targeted By Lead Raiders
Posted: Fri, 2 Dec, 2016 (8 months ago) - by Vicky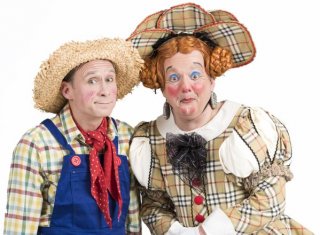 Some of the stars of this year's Norwich Theatre Royal pantomime are throwing their weight behind a bid byNewton Flotman church to boost its coffers after being targeted by lead thieves.
Ben Langley, who plays Silly Billy in Jack and the Beanstalk this Christmas, will be making a guest appearance at the festive fair at St Mary's Church in Newton Flotman. The event runs from 10am-3pm on Saturday 3rd December with light lunches and cakes available. Ben will be arriving at 12 noon..
He will be exploring the stalls and meeting some of the parishoners who are helping to raise money for the church. Maybe he'll be in some of the Christmas photos - you can book a Christmas photo shoot for your child with Vicky for just £3. The photos make great Christmas presents and will be delivered in time for the Christmas post.
The fair was initially going to boost the parish coffers to make the building more of a space for community events but now at least some money is going to have to be diverted to replace the lead following November's theft and also increase security at the building.
It is the second time the church has been targeted in recent months following an attempted lead theft back in May.
The Revd Canon Sally Gaze, Team Rector for the Tas Valley which includes Newton Flotman, said: "Newton Flotman is a wonderful community, We're all pulling together after the lead theft and still intending to invest in adapting our building for more community use as soon as possible. We're really looking forward to having Ben with us. The fair will be lots of fun"
Ben's visit comes amid rehearsals for this year's pantomime which opens on December 13 and runs through until January 15. He joins a star cast which includes world-renowned dancer, choreographer and performer Wayne Sleep, and the Theatre Royal's panto stalwart Richard Gauntlett.
John Bultitude, of Norwich Theatre Royal, said: "Ben was delighted to visit Newton Flotman in his native South Norfolk and help support the fundraising efforts. The festive event is a key part of the church's calendar and it is great to have the chance to help them end 2016 in a positive way. Oh yes it is."
Jack And The Beanstalk, Tuesday 13 December 2016-Sunday 15 January 2017. Tickets £7-£23.50
On the same day nearby Swainsthorpe Church's Christmas Coffee Morning will run from 10am -12 noon. Why not come to both
Back to top of page