I AM MARK
3 months ago
Sat, 8 Jul, 2023, 7pm @ Saxlingham Nethergate Village Hall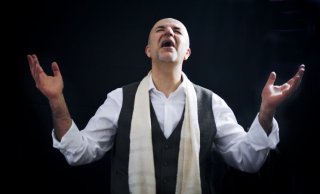 THE GREATEST STORY EVER TOLD ABOUT THE GREATEST PERSON WHO EVER LIVED!
Imagine being among Jesus' first followers and hearing his extraordinary story first hand. Well, now's your chance - with this stunning word-for-word dramatisation of Mark's Gospel by Actor and Storyteller, Stefan Smart.
ONE MAN - ONE CHAIR - ONE INCREDIBLE TRUE STORY
Stefan is coming to Saxlingham Nethergate Village Hall on July 8 and you're invited.
The I AM MARK performance begins at 7pm and refreshments will be available. Tickets are £5.
Box Office: 01603 396 959
"Marvel at the extraordinary richness of this ancient form of storytelling which is as relevant and revolutionary today as it ever was. Bring your friends and family!"
"Sometimes it takes a living voice, like this one, to make you hear the Bible for the first time." 
Archbishop Rowan Williams
"Respect! Stefan's performance was very strong."
BBC Songs of Praise
Back to top of page
Contact Ian for more details - 01603 396959