"Thy Kingdom Come"
Posted: Sat, 27 May, 2017 (3 days ago) - by Sally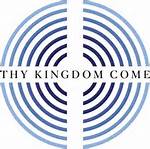 Between 25th May and 4th June, communities and churches around the world are gathering together to pray that their friends, families and neighbours come to know Jesus Christ.
Prayer events of all shapes and sizes will take place across the 10 days across the world. In the Tas Valley we hope that every congregation and cell member will take part.
Start the week by coming to the Ascension Day service at the Cathedral. Tasburgh Church open for prayer every day with special prayer stations and resources to take away for all ages and different styles of prayer
Come to Special Events at Tasburgh Church listed below and/or Morning and Night Prayer every day. Local events are on this website and in the downloadable leaflet below. Make an appointment with Sally (470762) or Dawn (498924) to talk and pray about anything you like.
To access more resources or make a commitment to pray, go to www.thykingdomcome.global.
Fri 26th Prayer Shawl Ministry 10am
Sat 27th May Film Showing: "The War Room" 7-9pm
Sun 28th Rogation Service at Tharston Church 11am followed by Prayer Walk and Picnic at Tasburgh Church
6.30pm Evensong @ Tasburgh Church
Mon 29th 7-9.30 - Youth Prayer Night
Tue 30th "Open Hands" Workshop: 7.30-9
Wed 31st Crafting & Prayer 10am -12
Listening for God's Guidance: Lectio Divina 7.30-9
Thur 1st June "Messy Prayer" Drop in with children 10-12
Prayer for Alpha 7.30-9pm
Fri 2nd Prayer Shawl Ministry 10-12
Sat 3rd Seeking God's Guidance for the Tas Valley - Lectio Divina 7.30pm
Back to top of page