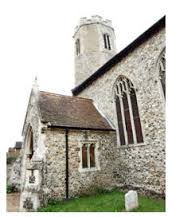 Welcome to our church
We are a small and friendly village church, seeking to serve our local community.
In 2012 work was completed to convert our building into a community friendly space. As a result we have an open space, comfortable chairs, improved heating, a kitchen area and an outside toilet; all of which is used by the church and the community on a regular basis.
Our worship is simple and accessible. On the second and third Sunday of each month, there is a traditional quiet service of Holy Communion. On the first Sunday, there is the "Swainsthorpe Special" which is a worship service with well known hymns and a short but highly relevant sermon. We feel it is important to apply our faith to our real lives. This service is followed by refreshments. On the fourth Sunday we hold our Breakfast Cafe. At this service breakfast is shared at round tables whilst we take part in a fun quiz. Modern hymns are played by our worship band led by Emily Poyser. There is always time for discussion and prayer following our guest speaker.