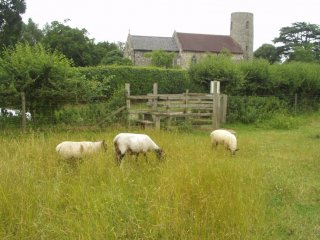 Welcome to Our church
We are a village church with a congregation of all ages. Many visitors comment on the welcoming community feel they encounter here.
Our worship includes both traditional and modern music and approaches.
On the first Sunday there is a BCP [1662] Sung Morning Prayer with the choir  in the church at 9.30am.  St Mary's Freedom Cafe meets at Peston Primary School at 10.30am, this  starts with a breakfast of bacon rolls, it is informal and  all the family are welcome to come and join in discussions, try a craft activity explore Christian faith and questions of life or perhaps read the Sunday papers and chill out. 
Usually, second and fourth Sundays find the adults enjoying the quiet space of the main Church building in a service of Holy Communion with hymns and songs while the children enjoy their age-specific activities in the adjoining Church Room.
On the third Sunday of each month young and old worship together informally, with thought  provoking input for all ages. We start this meeting with simple refreshments.
We try to share God's love in practical ways too especially through serving within our own village. Why not get involved in one or more of our many activities?