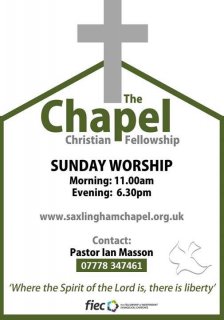 Independent Evangelical Church (F.I.E.C)
Times of Worship, Events & Other Information
SUNDAYS: 
10.15am - We meet to pray together
11.00am - Family Service (Communion is part of the service on the 2nd Sunday of each month)
6.30pm - Evening Praise  (Communion is part of the service on the 4th Sunday of each month)
WHO ARE WE?
We are a group of people who meet to celebrate the joy of coming to know Jesus Christ as Lord and Saviour. We are passionate about knowing Him and telling others about Him. Come along and join us and you can be sure of a warm welcome.
WHERE ARE WE? 
Along Browns Lane in Saxlingham Nethergate village, some 5 miles south of Norwich (a mile off the A140 at Newton Flotman). Map

WEEK BY WEEK
Sunday morning and evening services each week at 11am & 6.30pm.
Wednesday at 7.30pm - Bible Study & prayer fellowship. Everyone welcome.

YOUTH CLUB
We get together on Friday evenings (7-9pm). There's usually music, games and loads of time to chat. Come and join us if you're 13+! (Call/Text Pastor Ian on 07778 347461 for more info)
BROWSE OUR ON-LINE BOOKSHOP!
Click Here to visit 10ofthose.com and find 100's of great books.
EVENTS
Constantly changing calendar of local events and Chapel 'specials'. 

WE'RE REJOICING! 
The congregation has doubled in recent years and includes people of all ages. 

YOU'RE WELCOME!
We hope that you'll find us a welcoming, loving church. You'll experience reverent worship, relevant Bible teaching for all ages, great music and enthusiastic singing at the Chapel!
WHAT DO WE BELIEVE?
Click Here to read what we believe about God, the world we live in, and us!
WE'RE OUTWARD LOOKING...
We're priviliged to pray for, support and partner with these groups (in no particular order)...
Romanian Orphans

Guluddene Project, Uganda

Hand 4 Hand in Romania