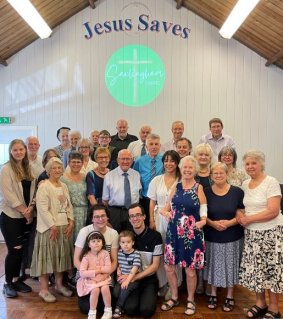 September Services
Sunday 3
11am  Andy Bash
6.30pm  Richard Pennington
Wednesday 6
7pm – Fellowship time on Zoom
Sunday 10
11am  Sam Brinkley
6.30pm  David Burns
Wednesday 13
7pm – Fellowship time on Zoom
Sunday 17
11am  Martin Boyce
6.30pm  'Songs of Praise' - John Belham
Wednesday 20
7pm – Fellowship time on Zoom
Sunday 24
11am  Stephen Walker
6.30pm  Arron Pilgrim
Wednesday 27
7pm – Fellowship time on Zoom
WHO ARE WE?
We are a group of people who meet to celebrate the joy of coming to know Jesus Christ as Lord and Saviour. We are passionate about knowing Him and telling others about Him. Come along and join us and you can be sure of a warm welcome.
WHERE ARE WE? 
Along Browns Lane in Saxlingham Nethergate village, some 5 miles south of Norwich (a mile off the A140 at Newton Flotman).

WEEK BY WEEK
Sunday services each week - See timetable above for details of service times and who is leading worship/preaching.
Wednesday at 7pm - Bible Study & prayer fellowship. If the meeting is on ZOOM, please contact Pastor Ian for the link. (07778 347461)
BROWSE OUR ON-LINE BOOKSHOP!
Click Here to visit 10ofthose.com and find 100's of great books.
EVENTS
Constantly changing diary of local events and Chapel 'specials'. 

WE'RE REJOICING! 
The congregation has doubled in recent years and includes people of all ages. 

YOU'RE WELCOME!
We hope that you'll find us a welcoming, loving church. You'll experience reverent worship, relevant Bible teaching for all ages, great music and enthusiastic singing at the Chapel!
WHAT DO WE BELIEVE?
Click Here to read what we believe about God, the world we live in, and us!
WE'RE OUTWARD LOOKING...
We're privileged to pray for, support and partner with these groups (in no particular order)...